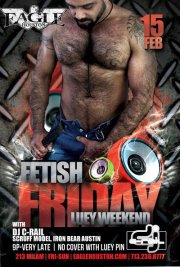 Fetish Friday & DJ C-Rail do LUEY Weekend
Ok, fella's (and a couple of dirty ladies) you asked for me and I'M BAAAAA-AACK!

DJ Dylan will be starting you guys off getting you pumped...getting you primed....sweaty....duuurrrrty from 9-11 and then handing you over to me. And I can't even speak of the things that will be done to you at that point.

It's a night of mischief and mayhem to start off LUEY weekend the right way!

There's NO COVER tonight with a LUEY pin (you folks that are registered
participants) AND no cover for those in Leather/Gear/Festish Wear or without
Shirt.

I better see you Men there! Or there WILL be reprecussions. Grrrrr!